Recently, the Oscars have been getting a lot of attention for, well I'll let this NY Post cover explain it…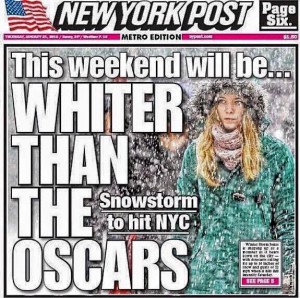 I quit watching the Oscars around age 12, because I'm not much of a movie goer. My list of never seens include (but are not limited to) Titanic, Avatar, E.T., Gremlins, and Back to the Future. Seriously, I'm not much of a movie person. Apparently, I'm not alone is abjuring the Oscars, but these include folks who do watch movies, they just aren't watching what the Academy is spending time and attention on. They have a problem. Sort of like tech companies that figure out that when you don't have women and minorities on your development team, you end up with products that only appeal to your white male 20 year old designers, and while it's good to have employees as customers, you need a wider customer base than that.
They also realize they have a problem (wow, that just pops up before I finish typing in "Academy " on Google). Too many of the Academy voting members are old, white, and male so that they not only don't reflect the business they are judging, but they really don't reflect their audience. But, some folks outside, don't think they have a substantive problem, merely a political correctness problem.
I bring you one of those people today, Stacey Dash. I bring her up not because she is worthy, but because I saw someone in my Facebook feed who thought what she was saying made sense. So I wanted to break down why she is wrong in much of what she contends, and talk about why this is important. Here is the quote from Ms. Dash:
"Either we want to have segregation or integration. If we don't want segregation, then we need to get rid of channels like BET and the BET Awards and the Image Awards where you're only awarded if you're Black. If it were the other way around, we would be up in arms…Just like there shouldn't be a Black History Month. We're Americans. Period." 
She does not even engage with the lack of representation in the Academy and it's awards, which is NOT supposed to be the white BET Awards. She only talks about the lack of nominees over half-way into the interview when the interviewer drags her back to that subject.
Her argument is like saying that the Negro Leagues kept Major League Baseball from integrating. But, she's wrong about the BET Awards being just for black folks, as this article points out, of white folks get NAACP Image Awards and awards at the BET event.
These events can be very important because they are focused NOT so much on black people winning awards, but the audience for the winners being black people. Let's take a look at two speeches from Lupia Nyong'o that even I saw.
When I look down at this golden statue, may it remind me and every little child that no matter where you're from, your dreams are valid. Thank you.
This too is an important speech and it also would speak to a young black girl, but also to any child. It's a good speech, it's an important speech, but that first one needs speaking too, and for that to happen, you need awards aimed at a black audience. Will this always be necessary? I hope not. Is it still necessary today? I think so.