3 Mosaic originally uploaded to Flickr by Leo Reynolds
This week did not have a promising start. When last I posted, I was prepped, rested, and ready for the new school week. After leaving from a very nice party on Saturday at a neighbors' home, I discovered that one of my sister's sons had brought the gift of a cold, along with presents, to the family-only birthday celebration we had for my son. GRRRR! Since many of my co-workers have been "felled" by a similar bug, it might have been from them too. It's pretty typical of returning to school, since my son had one when he went back in August, and now my nephews have one too.
I ended up missing Monday and Tuesday to sit home in misery. All was not lost. I re-jiggered my lesson plans, and voila! when I returned, they came off okay.
Intermediate (Fourth – Sixth Grade)
The plan was the same for all three grades. I did a variant of the lessons that Larry Ferlazzo does with his students. I could probably do the lesson with the second and third graders too, but for now, it's just the big little kids. This is the second year that I've done the lessons (What's Happening in the Lab Week Seven), and it did feel smoother, both for me, and the kids. Many of the fifth and sixth graders had done it before, but the fourth graders did pretty well with it, even though they didn't have that history. Here is my lesson:
1. I gave them the rules: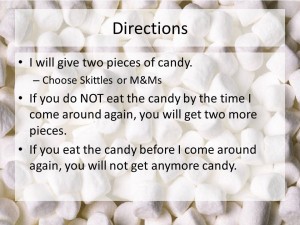 2. Tying this lesson back to the goals that we set in the prior week was what I started out with. I showed this slide show to make the point about hard work, and "growing" intelligence (based on the work of Carol Dweck):
3. I then showed a video about Walter Mischel's longitudinal experiment on four year olds testing self-control. For the fourth graders, I showed Joachim de Posada's TED Talk:

The fifth and sixth graders had seen it last year, so I showed them this video:

4. We then talked briefly about the video, and how they could improve their self control with this as a guide:
Marshmallow experiment background 2010
5. I then passed out their second batch of candy, as students wrote about how this would affect their goals.  Unfortunately, I still have to sift through permission slips before I can "post" their comments, but they were at least adequate, with some that really nailed it: